You read that right! This Chinese culinary gem has truly rocked my world. If you haven't tasted chicken foot soup yet, you need to stop right now and discover this mouthwatering delight. Let me take you on a journey to explore this underrated dish, one step at a time.
A Brief History of Chicken Foot Soup
Chicken foot soup traces its origins back to China and has been a staple in the Chinese diet for centuries. The dish has since become popular in various other cuisines around the world, including Caribbean, Mexican, and South African cuisine, where it's known as "walkie-talkies."
Why Chicken Feet?
You might be wondering why we would even consider using chicken feet in our soup. Well, here are some reasons:
High collagen content: Chicken feet are packed with collagen, which is essential for maintaining healthy skin, muscles, bones, and joints.
Sustainability: Using all parts of the chicken reduces food waste and encourages sustainable cooking practices.
Rich, flavorful broth: Cooking chicken feet releases natural gelatin, which gives the soup a rich and satisfying texture and taste.
The Health Benefits of Chicken Foot Soup
Chicken foot soup isn't just delicious; it's also incredibly nutritious. Here are some of the health benefits you can expect when enjoying this delectable dish:
Joint Health Booster
Chicken feet are high in collagen, which plays a crucial role in maintaining healthy joints. Consuming chicken foot soup may help alleviate joint pain, reduce inflammation, and improve overall joint mobility.
Promotes Good Skin
Collagen is also a vital component of our skin, hair, and nails. Regular consumption of chicken foot soup may lead to improvements in skin elasticity, hydration, and appearance.
Strengthens Immunity
The nutrients found in chicken foot soup, like vitamins B6 and C and zinc, can help give your immune system a much-needed boost, helping you ward off minor ailments and maintain overall health.
Flavor Variations Across Cultures
As mentioned earlier, chicken foot soup is enjoyed across various cultures, and each puts its unique spin on this classic dish. Let's delve into some of these flavor variations:
Chinese-style Chicken Foot Soup
In Chinese cuisine, chicken foot soup is often prepared with a variety of herbs and spices, including ginger, garlic, star anise, and soy sauce. The result is a deeply flavored and aromatic soup, perfect for those chilly days when you need something to warm you up from within. Check out this recipe to try it yourself.
Jamaican-style Chicken Foot Soup
This Caribbean version of chicken foot soup features a blend of local flavors, like scallions, Scotch bonnet peppers, and thyme. It's usually served with spinners (small flour dumplings) or rice. You'll love the spicy kick of this rendition – give this Jamaican-style recipe a go.
Mexican Caldo de Pata
Caldo de Pata, a Mexican take on chicken foot soup, is typically made with hominy, tomatoes, and various seasonings like cilantro, onion, and garlic. It's often garnished with fresh avocado slices, making it a hearty and wholesome meal perfect for family gatherings. Try out this amazing recipe for a taste of Mexico.
How To Make It
Ingredients
Directions
Cut the pre-soaked New Zealand fish maw into pieces.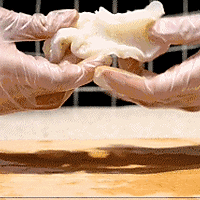 Rinse peanut kernels and chicken feet.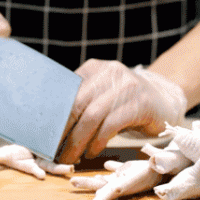 Wash and cut carrots into chunks, place them on a plate.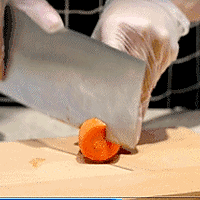 Place carrots, peanuts, chicken feet, and New Zealand fish maw in a stew pot, fill it with water.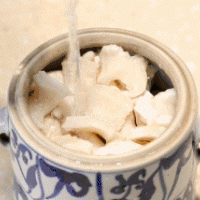 Put the stew pot into an electric stew pot and steam for 3 hours over a water bath. (Season with salt to taste)